Alocasia nycteris "Batwing"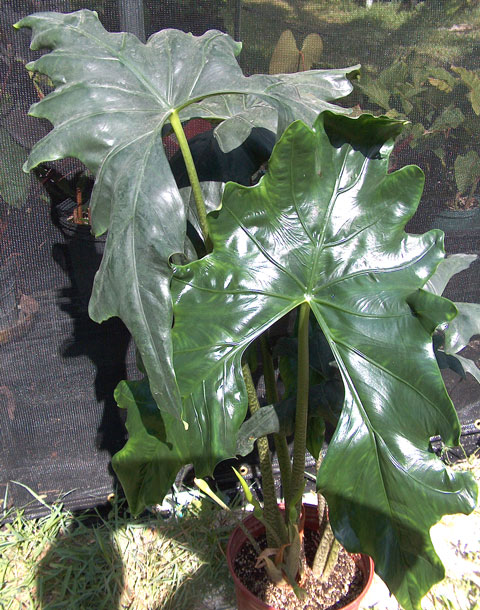 As Alocasias go, this one stands unique in several respects. The most obvious characteristic that sets this one apart is the extra-long posterior leaf lobes. The leaves have a fleshier substance than those on such plants as A. odora and A. macrorrhizos, and the petioles are quite elongated, even in young plants. This is one characteristic this plant has in common with A. "Sarian", and is one that I am changing through hybridization with A. odora and A. 'Borneo Giant'.
Our experience with this plant is that it is much more susceptible to basal rots, root rots, and leaf spotting from Erwinia infection than the other well-known terrestrials such as A. odora. We have found that it does respond to biological microbe protection products and that is how we intend to keep it mature enough to bloom and hybridize with.
Alocasia nycteris "Batwing" was formerly known as Alocasia advincula "Batwing".
The inflorescences, opened and unopened, are shown in the picture above. Note the very interesting petiole coloration on this plant.